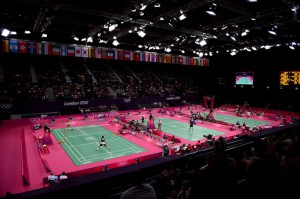 Barton Badminton club competes in the East Staffs Badminton League. Competing against other clubs in the area helps players improve their game whilst providing great social events also.
To check out or progress in the ESBL please follow this link
Below is a live calender that contains all our current fixtures and details of our club nights.
Add the calendar to your mobile device
If you would like to have the club match fixtures calendar with times and locations included on your mobile device you can subscribe to it using the link below:
For Android Devices:
Subscribe to public calendars using the calendar address to add a calendar using its address, follow these steps:
1. Click the down-arrow next to Other calendars
2. Select Add by URL from the menu
3. Find the address of the Google Calendar in iCalendar format, or if you have the iCalendar address of a calendar from a different application (for example, Apple's iCal), you can use this as well.
4. Enter the address in the field provided
5. Click the Add Calendar button. The calendar will appear in the Other Calendars section of the calendar list to the left.
For iOS Devices:
1. Write down or copy the URL for the Google Calendar you want to add to your iOS.
2. Tap the "Settings" icon, then scroll down and select "Mail, Contacts, Calendars."
3. Tap "Add Account" and select "Other."
4. Select the "Add Subscribed Calendar" option, fill in the Google Calendar URL in the Server box and click "Next." You do not need a username or password.
5. Toggle your view of the subscribed calendar by opening the Calendar app and tapping "Calendars" in the upper left corner. Tap a calendar name to either display or remove calendar events